FATHER MICHAEL J. MCGIVNEY: A FRIEND OF THE FAMILY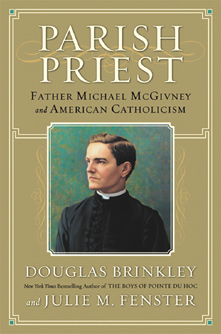 The parish records of St. Marys Church in New Haven during the time Father Michael J. McGivney served there don't reveal much about his life, other than that he was a very busy priest. Left alone to run the parish due to the pastors prolonged sickness, during one 30-day period in 1883, Father McGivney performed four marriages, baptized four children, celebrated Masses for the St. Vincent de Paul Society, sang vespers and offered Benediction at a special prayer service, attended a reception for two young women entering the Sisters of Mercy, and oversaw May devotions to the Virgin Mary, with the crowning of a statue of the Blessed Mother and the performance of a 250-voice children's choir. The 31-year-old priest was also busy helping the Knights of Columbus to grow beyond St. Mary's. In a new biography, Parish Priest: Father Michael McGivney and American Catholicism, popular historian and New York Times bestselling author Douglas Brinkley and Julie M. Fenster have captured the young priest's life and times in revealing ways.

Not that the state of Connecticut had anything against Catholics in the early 1800s — but they weren't allowed to purchase land. If the issue was pressed, then special dispensation might be granted, but only through an act of the legislature. All the while, Catholics were expected to join with most of the rest of the populace in paying a tax for the support of the Congregational Church, the state's official religion at the time. Episcopals, Baptists and Quakers were all exempted, but not Catholics. It was no wonder that Connecticut, with almost 300,000 residents, counted its Catholic population in the dozens. Yet none of that stopped Michael and Bridget Downes from moving there. Their previous homeland was far worse for Catholics, and little better for Protestants. Ireland in the early 19th century was a land of enforced poverty, where few farmers owned their own acreage and the landlords, most of them living in England or on the European continent, choked out all hope of improvement by charging unreasonably high rents. The Times of London, a conservative newspaper that traditionally spared little sympathy for the Irish, sent a correspondent to County Donegal and received a description of a typical rural landscape: "From one end of [the landlord's] estate here to the other nothing is to be found but poverty, misery, wretched cultivation and infinite subdivision of land. There are no gentry, no middle class, all are poor, wretchedly poor. Every shilling the tenants can raise from their half-cultivated land is paid in rent, whilst the people subsist for the most part on potatoes and water." Even before the potato blight of 1845 led to the Great Famine, alert Irishmen were facing such facts and the sad impossibility of being Irish. "The conviction that the country held no future existed as early as 1815," William Forbes Adams wrote in his classic history Ireland and Irish Emigration to the New World. The Downes family escaped early on, sailing for America with their young son in 1827. Their specific destination was the state of Connecticut, where a few of their old neighbors had settled already. For more than a dozen years, Michael Downes, known as Mikey, was a common laborer, probably finding work building canals or railroads, as did most of his countrymen. In 1832, he and Bridget moved to New Haven. By no coincidence, the city's first Roman Catholic congregation was established there the same year, serving about 300 people. It would be in keeping with the devout Downes family to settle within the embrace of a parish, once that option was available. In another respect, too, New Haven was ripe territory for people such as the Downeses. Mikey and Bridget were dedicated to reading and education. New Haven, a manufacturing town and an active port, was influenced most of all by Yale University. Founded in 1701 as a rather rigid Puritan institution, Yale would loosen up considerably in the 19th century, combining high academic standards with a rebellious spirit. The campus took up one whole side of the flat, grassy Green that formed the hub of New Haven life. Rising tall, like a citadel in fieldstone, Yale took little notice of New Haven's latest family of Irish immigrants. The Downes were just a working-class couple trailing three young sons, William, Edward and John, as they walked along the Green and looked up at the great university. Mikey Downes started work in New Haven as a news hawk, selling one New Haven paper or another on the street. The work suited him and a short time later he was a full-time newsdealer — said to be the city's very first — stocking an array of New Haven and New York papers in a corner kiosk. It was a major accomplishment for him at the time, but he wasn't through. Like most of his countrymen, disenchanted with farming as they had known it in Ireland, he regarded storekeeping as the province of truly unlimited opportunity. Only about 1 percent of first-generation Irish immigrants managed to fulfill the dream of opening a shop; Downes joined their ranks in the early 1840s, when he rented a space at the prime corner of Church and Chapel streets, on the Green looking diagonally across to Yale. Customers could buy papers or, for two cents, go in the back room and read as many of the New York papers as they wanted. Political debates with the proprietor were free of charge. Mikey and Bridget also owned property — although by the time they bought a wood-frame house in 1843, the state legislature didn't have to know about it. The law requiring special dispensation for land ownership by Catholics had been lifted 10 years before. The days of official antagonism toward Catholics were over. Unofficial anti-Catholic fervor was surging to new peaks, though. To combat the image of immigrant Catholics, especially Irish ones, as disloyal and shiftless, the Downes family was intent on showing that they belonged in America. In 1845, with the store making the Downes name famous in New Haven, Mikey died suddenly. His second son Edward, only 16, took over the family store. With his help, and the encouragement of Bridget, the youngest of the three Downes boys, John, graduated from Yale Medical School in 1854. Immediately popular in his practice, he died of tuberculosis at the age of just 26. The oldest son, William, later graduated from Yale Law School. Extremely successful in his own right, he was pointed out as "New Haven's only Catholic lawyer" until his own early death, also from tuberculosis. Through the years, the store was left entirely to Edward, who continually expanded his small empire until, in the late 1860s, it was "Edward Downes, Stationer and Newsdealer, at Wholesale and Retail." From art supplies to comic magazines, he sold anything pertaining to paper goods and watched over one of New Haven's most thriving businesses. Edward Downes also presided over a family that would eventually include six children born to his first wife, two to his second, and six more to his third wife, Catherine. On Sunday mornings in the years before the youngest was born, 14 of the 15 members of the Downes family could be seen filing into St. Mary's Church on Hillhouse Avenue. The fifteenth, Josephine, would already be there; she was the church organist. Like any Catholic church, St. Mary's attracted all kinds of people, but in New Haven, it had something of a corner on the energetic and ambitious set. In part, that may have been a result of its setting: an imposing stone structure, almost like an unofficial cathedral for the city, it sat on Hillhouse Avenue, New Haven's most prestigious street. For all of its timeless stonework and hints of English Gothic architecture, St. Mary's was the newest Catholic church in town, dedicated in 1874. By then, New Haven counted five parishes, but none was quite like St. Mary's. The building itself satisfied something deep within local Catholic leaders like Edward Downes, but for those in his children's generation, there was an even more appealing glow. They knew that inside, they had a friend, which is the quality that makes any church come to life. In Father Michael McGivney, the youthful parishioners of St. Mary's looked to a priest who could be one of them, not merely because he loved a good laugh as much as anyone else or a snappy play in baseball even more, but because he knew what it was to be "first generation" or "second generation." He knew what it was to look for and find a place as both an American and a Roman Catholic. All of his parishioners were trying to do that same thing, along one course or another. Some, like Josephine Downes, would eventually follow him into a life in the Church. Others wanted to move forward amid the fast pace of life in America without falling out of step with the daily relevance of their religion. In either case, Father McGivney's strong belief lay with the strength of the family. He was fascinated by the power derived there — not through need, but on the contrary, through being needed. The parents for each other and for the children, the children for one another and for the parents, too: obligations fulfilled. Therein lay the potential in aspects practical and spiritual. That was McGivney's philosophy and it was already absolute within him when he was only in his 20s. Fortunately, his personal style was not nearly so staunch. Marked by laughter and empathy, his charm lay in the ability to align himself with people of any age group. As Father McGivney came to know each of the Downes — a process that admittedly took some time — he formed a particular friendship with Edward Downes Jr., the stationer's son, who was also planning to serve the Church. A natural scholar, Edward Jr. was a student at St. Charles College near Ellicott City, Md., which he entered in 1876 at the age of 16. According to the school catalogue, St. Charles's only object was to educate "Catholic youths who aspire to the holy priesthood." Housed in a single, expansive building in the middle of the Maryland countryside, it was an independent institution, but one generally regarded as a prep school for St. Mary's University and Theological Seminary of St. Sulpice, which was located in Baltimore. None of this was foreign to Father McGivney; he had received his own education at St. Mary's Seminary. St. Charles described itself as "strictly a preparatory ecclesiastical seminary," with the emphasis, it seems, on the word "strictly." The permission of the president was necessary for a student to correspond with anyone except his parents and pastor. That was not all. "To guard against the loss of time and danger to morals, incident to the reading of frivolous or bad books," the boys weren't allowed to read anything except material assigned by their professors. For a fellow like Edward Downes Jr., who had grown up surrounded by frivolous books (and no doubt more than a few bad ones among them), such constraints might have seemed downright unnatural — or, on the other hand, a welcome relief. However he felt about that rule, one thing is certain: He thrived in the atmosphere of St. Charles. In the spring of 1881, he graduated as salutatorian of his class. At 21, he was ready to pursue his long-standing dream of entering the priesthood, making plans to enter St. Mary's Seminary that fall. His younger brother Alfred, at 18, had plans, too; he was headed for Yale Law School. For years, Edward Downes Sr. and his brood were regarded as "the oldest, richest and most respected Catholic family of New Haven." Over most of those years, it was true enough, yet by 1881, anyone who was still saying it was just being kind. Or else they didn't know the truth. Edward Sr. had been caught off guard by the Panic of 1873, an economic downturn that stubbornly outlasted his ability to keep up with his creditors. Eventually, he lost the store, along with his portfolio of investments, mostly in the form of real estate. The family moved into a succession of smaller houses, until they were back in the Howe Street home in which Edward had grown up; it was not really large enough for his flock, but somehow they squeezed in. And somehow, Edward managed to keep up appearances in the business community. Before long, he had a new store in a downtown location, selling news and paper goods. He still had more debts than assets, though, unless one counted the family that, through it all, he managed to keep around him. He and Catherine were even expecting a new baby as 1881 drew to a close. Edward Sr. had hope that he could rebuild his fortune, and at 52, he had plenty of time, or so it seemed as he bustled off to his strangely smaller, quieter newsstand every day. Edward Sr. would not live to see out the year, though, dying of "brain fever" in late December. That may have been the coroner's generalized term for malaria, or perhaps it was simply a way of saying that the disappointments of business had been deeper than Edward Sr. ever let on.The Downes had built their position, along with their wealth, over the course of almost fifty years after Michael and Bridget Downes arrived in New Haven in 1832. It only took a single day for it all to unravel. With the death of Edward Sr., the extent of the Downes' financial reversal became a matter of public record. But that was not the worst of it. The hold that Edward had somehow been able to maintain on a bright future for his children collapsed, as the court loomed ready to take charge of their fates. Even that was not the worst of it, though. The final tragedy was that Edward's widow, Catherine, didn't know where to turn for help. Edward Sr. didn't leave any money. In the winter of 1882, Catherine slowly tried to get over grieving for her husband — but the weight of all that confronted her family was even more overwhelming. As each day dawned, she had to face the fact that she didn't know who would provide for her children and stepchildren, and save the future for them. In fact, the County of New Haven in its official capacity wondered the same thing. When a family had no source of income, the Probate Court had the right to assign the children to public institutions. Although the law cast the ugly specter of breaking up families, it was actually in place to protect children from possible neglect. It was also meant to spare the community from the delinquency of ill-supervised teenagers. The Probate Court demanded proof from families like the Downes that children left fatherless would not become vagrants. Catherine Downes was unable to provide that assurance. Edward Jr. had no choice but to quit the seminary. He returned home to run the news counter. During January, Edward Jr. made a convincing case that, young as he was, he could manage the store and provide for his widowed stepmother and the youngest of the children. The court turned its attention to the three teenaged boys: Alfred, 19; George, 17, and Joseph, 14. With no money available for education or apprenticeships, the judge ruled that guardians had to be found for each of them or else the court would intervene. The guardian had to be a person of good character, someone acceptable to the court. There were plenty of people who fit that description in the upstanding city of New Haven, most of them old friends of Edward Downes Sr. The guardian had to take full responsibility for the actions and well-being of the ward. That narrowed the list of volunteers considerably, even in regard to the well-reared Downes teenagers. A teenager could be a volatile entity in any era and in any family. Finally, the guardian had to put up a bond of more than $1,000. That pretty well emptied the list of potential guardians for the Downes teens, although relatives eventually banded together in order to vouch for the two younger ones, George and Joseph. On Feb. 2, 1882, New Haven's Probate Court accepted $2,500 for each of them in the form of a bond from their new guardians. That left Alfred. The court set a price of $1,500 on the privilege of becoming his guardian. His hearing was set for Feb. 6. For all of the powerful connections that the Downes had in New Haven, in business circles, in politics, and in the leadership of the local Irish-American community, no one came forward. Edward Sr.'s many old friends disappeared, claiming that either they didn't have time or they hadn't the money to spare. On the sixth, a Monday, people all over New Haven were complaining. They were also digging out, after winter storms over the weekend had made a particularly messy job of leaving a foot of snow on the ground. The trains were backed up, and even the steamboats taking passengers back and forth to New York City were running late. More to the point for New Haven residents with business downtown, the sidewalks were still piled with snow, as landlords, running late, too, neglected to shovel their sections. Only the New Haven Probate Court was running on time. Edward Jr. was there, in place of Catherine, who was in confinement, expecting her baby within two months. His younger brother Alfred answered a series of questions posed by the judge. Then the judge asked the court if anyone was present to enter into a guardianship for Alfred Downes. Alfred looked back at the gallery. Michael McGivney stood up, a slightly built man with a smooth complexion made rosy by the brisk winter air. For some of the older people present, it was a surprise even to see a Catholic priest in a government building. Until Father McGivney's generation, priests tended to remain on church property as much as possible, in emphasis of the greater glories to be found there. By the bustling 1880s, as the situation became less proscribed, priests did venture out regularly, whether or not they were on church business. Nonetheless, even the most worldly among them stopped short of actually seeking out a role in any other institution. For Father McGivney, however, the New Haven Probate Court was exactly the right place for a parish priest on that February morning. A family was at stake. And so, when the judge asked whether anyone present would act as guardian for Alfred Downes, McGivney rose to his feet. If others in the court turned to stare at the youthful priest in his long black cassock, that couldn't be helped. McGivney was no revolutionary, enjoying change for its own sake. Quite the opposite, in fact. But he was a man of action, born with an unresting sense of compassion, embraced by an entirely practical turn of mind. Father McGivney didn't have $1,500 for the bond, but he did have the trust of a retired grocer named Patrick McKiernan. With the judge's approval, McKiernan acted as surety, guaranteeing that if Father McGivney reneged on the guardianship, he would pay the "penal sum" of $1,500. A bond was signed to that effect. Alfred had a guardian who believed in his future, in place of his late father. Father McGivney left the Probate Court well satisfied at the outcome of the Downes' case, but not at the prevalence of the same problem throughout the community and even the nation. Even though he was only a young man, he was filled with a lifetime of anger and frustration at the sense of doom that settled over nearly every family that lost its wage earner. Long before, he had watched firsthand, when it fell over his own family. On the afternoon of Feb. 6, he was more determined than ever that what had happened to the Downes family need not happen to anyone else. As Father McGivney walked home across the Green, dodging the snowdrifts along with everyone else, he prepared in his mind for a crucial meeting that evening at St. Mary's, a meeting that would extend the sense of family within the laity of the Catholic Church. It would be a turning point, if he could carry his point with the men invited to be there. All of them were Catholics and most were men of action, ambitious for success. If they weren't rich yet, they would be quick to point out that they also weren't finished trying, just yet. In any case, they were busy men, which meant that they could get things done, if they wanted to badly enough. Of course, it also meant that they could say no in a dozen different ways or — even more ominously — say "maybe" in just one. Father McGivney knew all of that. But it was the echoing uncertainty of the afternoon session in Probate Court that made him walk a little faster. The special strengths of Catholicism could be planted in men, he thought, especially husbands and fathers, to grow with them through their lives. And beyond, as well, with widows having a place to turn and children keeping hold of the future that their fathers intended. Michael McGivney had an understanding of them all: the fathers, the mothers, the children, an everyday trinity more fragile in modern life than anyone else seemed to realize.
NEED A PRAYER ANSWERED? ASK FATHER MCGIVNEY
WHY YOU SHOULD PRAY FOR FATHER MCGIVNEY'S INTERCESSION
Need help finding a job? Know someone struggling with substance abuse? Family at odds with one another? Battling an illness? Loved one fallen away from the faith? Try praying through Father Michael J. McGivney's intercession. Father McGivney, founder of the Knights of Columbus, may become a saint, after being declared venerable in 2008, which means that he displayed "heroic virtue" in his life. The story of Alfred Downes displays Father McGivney's heroic faith in action. Downes, one of Father McGivney's young parishioners, was in danger of being separated from his family. His father had just died, and the courts required that legal guardians come forward for each of the Downes children if the family couldn't pay the necessary legal fees. Only when Father McGivney stepped in and offered to pay the bond was the family left intact. Situations like this inspired Father McGivney to create the Knights of Columbus, the largest Catholic fraternal insurance organization in the world. He wanted to make sure that no family would become destitute if the breadwinner died. He also wanted to ensure that Catholic men could remain strong in the faith. His legacy continues to inspire the nearly 2 million Knights today. Father McGivney continues to exhibit his heroic virtue while in eternity with God. Here are some testimonials:
Employment and finances - A Knight from Council 9658 in Calgary, Alberta, was laid off from work after oil prices declined in 2015. A week later, he received his copy of Columbia and found the prayer dedicated to Father McGivney's canonization. After just three days of praying to Father McGivney, he was offered another job.
Substance Abuse - When a couple learned that their son struggling with drug abuse wanted to leave rehab, they turned to Father McGivney and asked for his intercession. The next time they visited their son, he was "intrigued by what he was getting from the program" and was "looking forward to completing" it in order to recover. The son has made "great progress" since then.
Family Reconciliation - When a woman learned that the love of her life was about to leave and break up their family, she prayed to Father McGivney, and "less than three hours later, [the love of her life] came to me saying that he was willing to stay and work things out."
Health and Healing - In 2015, a patient was diagnosed with pancreatic cancer, which has a five-year survival rate of 9 percent. In response, the patient underwent a procedure that removed part of the stomach, gall bladder, small intestine and half of the pancreas. The patient's mother-in-law prayed every day for Father McGivney's intercession. Today, the patient is in still in remission, saying that Father McGivney "has given me a second chance to grow spiritually."
Return to the faith - Several years ago, a man's brother, an alcoholic and divorced, was dying. His brother hadn't received the sacraments in many years. In a powerful testimonial, he wrote: I was traveling to New Hampshire to visit him before he died, I stopped at St Mary's Church in New Haven to pray for him at Father McGivney's tomb. I had the great privilege of being there, alone, for the better part of an hour, after which I resumed my journey. I arrived at the hospital just as the hospital chaplain was hearing my brother's confession and administering the Last Rites! It had probably been 30 to 40 years since he'd been to confession. I thanked the chaplain after he was done and he asked me to join him for Mass. I did, of course and imagine my joy when he offered the Mass on behalf of my brother! When I left a day or two later, I never saw my brother alive again. I firmly believe that, aided by those of our deceased father and mother, along with those of others, it was Father McGivney's prayers of intercession on my brother's behalf that he returned to a state of grace.
Have an intention? You can ask for Father McGivney's intercession by offering this prayer: God, our Father, protector of the poor and defender of the widow and orphan, you called your priest, Father Michael J. McGivney, to be an apostle of Christian family life and to lead the young to the generous service of their neighbor. Through the example of his life and virtue may we follow your Son, Jesus Christ, more closely, fulfilling his commandment of charity and building up his Body which is the Church. Let the inspiration of your servant prompt us to greater confidence in your love so that we may continue his work of caring for the needy and the outcast. We humbly ask that you glorify your venerable servant Father Michael J. McGivney on earth according to the design of your holy will. Through his intercession, grant the favor I now present (here make your request). Through Christ our Lord. Amen.
Servant of Charity
To habitually anticipate the needs of others is a sign of true Christian charity. To spend one's life alleviating the sufferings of others and bringing joy to one's neighbor brings witness to the reality of Christ's love in one's mind and heart. This is the pattern of service and ministry we discover in Father McGivney as we plot the events of his daily life.
Father McGivney seems to have never failed in his interest and concern for others, even at the expense of his own health and well being. We can rejoice in the example he provides of remaining united to Christ in the Mass, prayer and sacrifice without removing himself from the realities of life that so preoccupied the members of his flock.
There was in Father McGivney a balance between the human and divine. His ability to mourn with those in sorrow and to spread joy and support to those in need of joy and encouragement, typified his priestly disposition. Every one of us, cleric or lay, married or single, needs to achieve such a balance and integrate it into our own lives.
God hears our prayers for help, and he listens to the powerful intercession of his friends, the saints. Let us learn to invoke the intercession of this holy, humble and very human parish priest for our conversion and growth in spiritual life.
Protector of Christian Family Life
Sent to serve the young of his flock, Father McGivney in turn "sent" the young men under his guidance and direction into the world to become good husbands and fathers, true knights for God and country.
His work with the young was but a steppingstone to the formation of strong Catholic families. His dedication to the ideal of Christian manhood, expressed so clearly in the founding of the Knights of Columbus, was never allowed to obscure his ultimate goal of protecting the good of the entire family unit. Just a couple of years after the Order was established, he began to limit his involvement in the Knights, so as to be available to his whole flock.
Though focused on the task at hand, he never lost sight of his ultimate purpose: to care for and strengthen Christian families.
In a sense, the founding of the Knights of Columbus was a means rather than an end; a means to strengthen husbands and fathers so they could, in turn, strengthen their families in the faith and secure their material well-being.
Father McGivney also regarded politics as a means to build a better society and protect the Christian family life.  An example of this regard can be seen below in an excerpt from one of Father McGivney's sermons, which was recorded by the New Haven Observer in 1884.
"My friends, the political campaign is rapidly drawing to a close and the time has come to decide which of the numerous presidential candidates shall receive your vote. In casting your ballots you should look well to the responsibilities under which every citizen of this free government is placed. Let not the soft or alluring words of tricky politicians, or the seductive dollar turn you a hair's breadth from your lawful path. Vote not as other men dictate, but rather like men with the interest of your country at heart. Vote according to the dictates of your own consciences."